Glass Wolfe, Live on The Featured Artists Show
Posted by
jakobn
on (2864 views)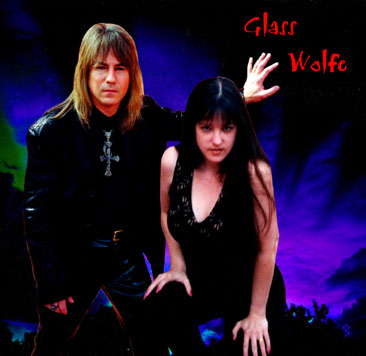 Sep 10th/Sep 13th at 9AM and 5PM Pacific and UK Times.
Glass Wolfe was formed in 1998 by vocalist / lyricist Maria Glass and keyboardist / producer Philip Wolfe . Their Debut CD was released in October 2001 and has been reviewed in several international rock magazines and is selling in Japan, Germany, Holland. England, Spain, Brazil, France and the USA.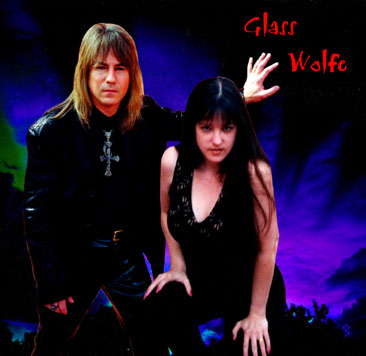 Maria Glass is from North Kingstown, Rhode Island, and left home and family for the rock music scene of LA. She is the vocal powerhouse and lyricist for the band. She has also written lyrics for Keith Emerson (ELP) and appeared in the movie Say Anything and the TV series Houston Knights. She studied with vocal coach Jeffrey Allen for several years and has played the local club circuit with a Tribute to the females of classic rock as well as in her former band UV17.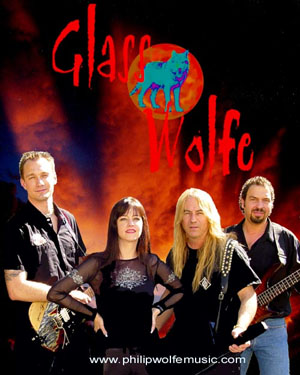 Philip Wolfe is a veteran of the LA music scene and has played keyboards with WASP, KEEL, IMPELLITTERI (#1 in Japan 1988), ROX DIAMOND, XYZ, DRIVER, ANGEL, and ATTAKK. In 1992, he embarked on a Monsters of Rock tour with IRON MAIDEN and BLACK SABBATH, and later recorded sessions with many, many others. He appeared on MTVs Headbangers Ball with IMPELLITTERI, and on video discs in Japan with IMPELLITTERI and ROX DIAMOND. Philip also has several CD Rom sound libraries reviewed and advertized for many years in Keyboard magazine, Electronic Musician, Sound on Sound, and in the Pro Tools Developers Catalog. They can also be bought online at Greytsounds.com.
Pat Cicinelli, a solid, energetic, veteran bass player of the LA music scene provides the low end excitement for the formidable rhythm section and provides backing vocals. The original bass player for The Four Horsemen, Pat is a great talent on the stage and in the studio. Pat has definately put his bass guitar signature on the recordings.

Flint Mavis, a recent addition to the band, has risen to the challenge of covering the various guest guitar players who have recorded on the forthcoming CD and compliments them with his own versatile style. An outstanding lead and rhythm player and a major presence on the stage, Flint delivers the goods. Flint has played countless shows throughout every major club venue in Los Angeles, he has done fill in and session work for a variety of bands and has shared the stage with national acts like THE GOO-GOO DOLLS. He also has a great collection of guitars and amps for the studio. His rock god guitar style ranges from Zack and Slash to Satriani and Van Halen.
TV Horvath, the new drummer of the band, plays drums ala Cozy Powell and Ian Paice and provides a powerhouse engine to the rhythm section. TV is from Europe and played in HM band, Legion, with 2 CD releases and several tours including shows with Saxon and Uriah Heep. He brings to the band a wealth of experience and talent. You can definately feel his thunder.

Glass Wolfe is putting the finishing touches on their next CD, which also features many guest stars, including, on guitar: Neil Citron (Steve Vai, Lana Lane), Stuart Smith (Sweet, Heaven and Earth, Ritchie Blackmore), Howie Simon (Glass Wolfe, Jeff Scott Soto, Ken Tamplin), Mark Tremalgia (Bang Tango), Dennis Lotka (Area 51), Iain Ashley Hersey (Fallen Angel , Heaven and Earth), Ray Schenck (Hellion), Michael Valentine (Glass Wolfe) and David Ballon. On bass: Dario Sexias (Glass Wolfe, Firehouse) and Kurt Barabas (Under the Sun). On drums: Dave Norwoods (Hippo Limbo) and Stefan Svensson (Glass Wolfe, Ken Tamplin). On backup vocals: Swan Montgomery (Led Zepagain), Paul Daniels (Rox Diamond), Monie Kulick (Perfect Strangers), and Nita Neets (Final Notice).
You can find more information about Glass Wolfe on their website at http://www.philipwolfemusic.com
You can also e-mail the producers of the show: Tony Pretzello at: tony@radiogetswild.com and Jakob Nielsen at:jakob@radiogetswild.com